You're not logged in
To gain access to all your products, please
login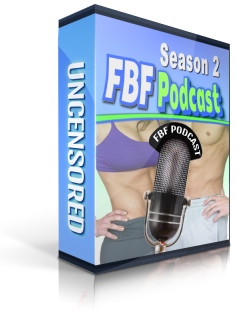 Welcome to the Flat Belly Forever Uncensored Podcasts where we discuss the completely Uncensored TRUTH about the latest health and fitness topics which matter the most.

Uncensored gives you everything you love about audio - and more of it!

We love podcasts as a way of getting you the latest information and debates on controversial topics. We use them as a way to share our "Insider ONLY" team chats with our PREMIUM customers. Inside the FBF Uncensored Podcasts, we get down and real with the hottest topics in the world of nutrition, fitness, fat loss and muscle building.

Why treat yourself to the FBF Uncensored Podcasts?

In this exclusive and rare collection of recordings, FBF creators Brad Pilon and John Barban discuss, dissect and analyze all the latest fitness, health and nutrition research and trends teasing out fact from fiction and clarifying exactly what YOU need to know and apply to enhance your FBF lifestyle to perfection. No topic is off limits as our experts converse candidly and UNCENSORED about the very issues and challenges which members of the FBF community face every day.

That's why you need to click here and start listening to the FBF Uncensored Podcasts today. Every single episode will give you a new piece of information and ideas or solutions to the challenges you're facing. Skyrocket your knowledge by downloading your first FBF Uncensored Podcast today.

Download access to the Uncensored series now and get immediate access to each new episode, plus no-holds-barred access to the full archives going back years!

Are you ready to dip right into the most valuable audio system in fitness?

Click here to join Brad and John now!